Just like residential homes, commercial buildings need complete protection from the elements, but commercial roofs have certain needs. The majority of commercial buildings have flat roofs, which need different roofing materials than residential homes. Only the most experienced roofers in your area can give your business superior protection with the latest commercial roofing materials.
Diversified Exterior Solutions: Top Commercial Roofing Contractor in St. Louis, MO

Specializing in roof replacements and storm damage repairs, Diversified Exterior Solutions is one of the top roofing companies in the greater St Louis MO area. Our years of experience in residential and retail roofing means we understand the needs of all kinds of property owners, including commercial businesses.
Commercial Roofing Solutions for Property Managers
Flat roofing is used on commercial buildings for a variety of reasons. Commercial buildings don't need the extra attic space that a sloped roof provides, and commercial roofs need to be accessed by workers. Many flat roofing systems are layered to provide thermal insulation, protection against the elements, and allow access to rooftop HVAC systems and skylights. Because water doesn't flow as easily off them, flat roofing needs to be watertight and resistant to mold and moss. Many flat roofing materials also come in light colors to reflect sunlight and reduce energy bills.
Don't let your commercial building suffer with a subpar roof! Contact Diversified Exterior Solutions for a free commercial roof inspection today!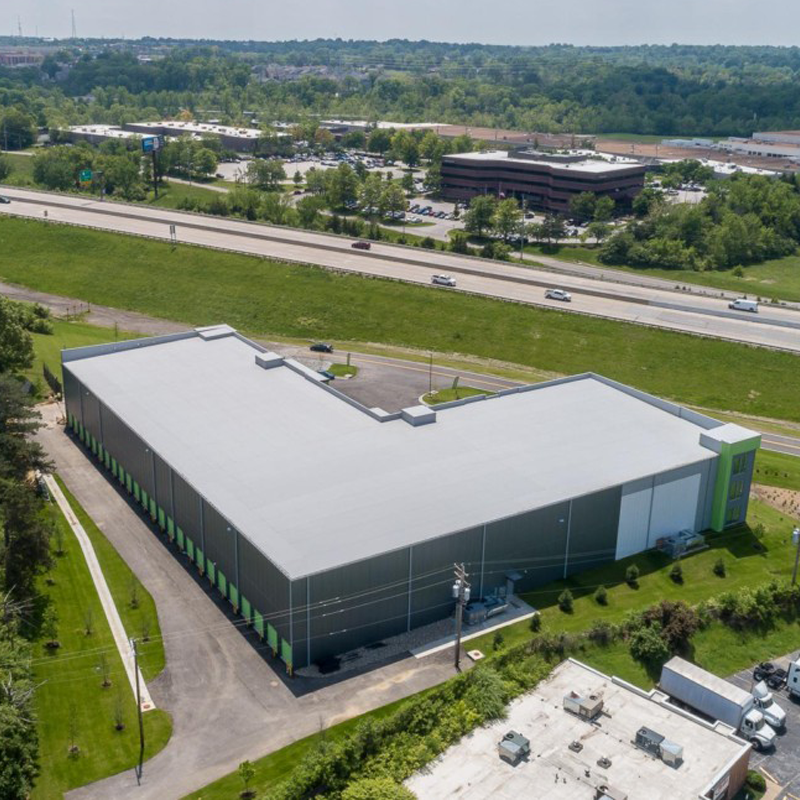 What are the types of flat roofing?
The roofing experts at Diversified Exterior Solutions can provide you with the answers you need about flat roof replacements!
TPO (thermoplastic) Plastic Roofing Membranes
Plastic roofing membranes are thin layers of material made from plastics like PVC and TPO (thermoplastic) that are very lightweight and capable of completely covering a flat roof in a layer of protection that's waterproof, mold resistant, and reflective.
EPDM (ethylene propylene diene terpolymer) Rubber Roofing
Sometimes called EPDM roofing, rubberized roofing materials provide insulation and walkability, as well as UV resistance. These roofing sheets are lightweight and can be installed with fasteners or with heat.
Modified Bitumen Roofing
Modified bitumen roofing is the traditional type of flat roofing system, consisting of layers of fiberglass fabric soaked in asphalt. This type of roofing can be topped with granules for added protection or UV resistant coatings.
Diversified Exterior Solutions: Local Roofers You Can Trust

If you've gotten to the point where you need a roof replacement, you know you need professional roofers to help, but who are the best roofers in your area? In Missouri, Diversified Exterior Solutions are the most experienced and reputable roofers who can help you improve your residential home or commercial building with a new roof.
Get a Quote For Your Project
"Excellent group of individuals with whom to work. Were there everyday to make certain the job was going well. Addressed any issues timely. Overall quality of work, as well as people working for them, was excellent. Would recommend them without hesitation."
"Luke came to me highly referred from a friend, he was on time and ended up installing new roof, skylights and gutters on my home. Very pleased with the whole process from estimating to invoicing."