It's hard for homeowners to know who to trust when they realize that their roof needs replacing because of recurring leaks or structural damage. The expense and hassle of getting a new roof can be daunting and cause property owners to hesitate or worry, but the most reputable roofing company in your area can give you peace of mind. In Missouri, that's Diversified Exterior Solutions, the local roofers with the most experience in roof replacement and new roof installation.
Diversified Exterior Solutions: Missouri's Top Roofing Contractors

We have years of experience with all areas of roofing from installation to storm damage repair on all roof types, so our expert roofers can shepherd our clients through the entire roof replacement process.
Getting your roof professionally replaced is easy!

First, we'll explain what problems may require roof replacement instead of temporary roof repairs.
Next, we'll help you choose the correct roofing material that will best protect and beautify your building or home.
Then, our licensed and insured expert roofers tear-off the old roof and complete the new roof installation with superior workmanship and attention to detail.
We clean as we go, leaving the worksite better than we found it.
Our clients can trust in the durability of our excellent workmanship and find peace of mind in the superior warranties of the high quality materials we provide for you to choose.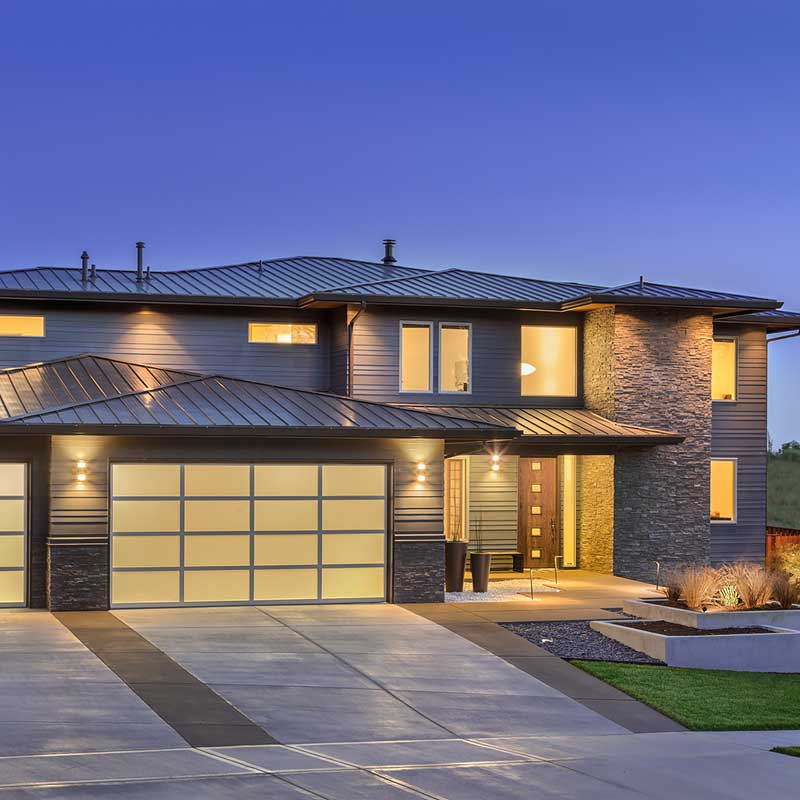 Let us answer your roofing questions!
The roofing experts at Diversified Exterior Solutions can provide you with the answers you need about roof replacements!
How do you know when a roof needs replacement?
It can be obvious that a roof has failed if there's multiple leaks or big holes, but some signals can be more subtle. If you keep getting leaks in different spots, other roof parts like soffits and fascia have damage, or there's water damage on ceilings and walls, your roof probably needs full replacement.
Can I just repair my existing roof?
Often a few missing shingles or a little rotten fascia can be replaced on it's own, but in many instances the damage is already too great. This is because water can flow through a damaged roof and cause deeper damage to wooden decking, attic supports, or interior walls. Over time, small repairs aren't enough to reverse the damage and a full roof replacement becomes necessary.
How often should you replace your roof?
Though a properly installed roof can last for decades, it can be a good idea to replace your roof after 15 years or so to prevent damage that comes with an aging roof like recurring leaks or interior damage.
Which roofing materials are best?
Depending on the style of your building, and the style of it's roof, different roofing materials are used as appropriate. For example, hip roofs with asphalt or architectural shingles are common on residential homes. Commercial buildings often have flat roofs covered with materials like EPDM or thermoplastic roofing. To pick the right roof type and roofing material, you need to consult with an experienced roofer like those at Diversified Exterior Solutions.
Diversified Exterior Solutions: Local Roofers You Can Trust

If you've gotten to the point where you need a roof replacement, you know you need professional roofers to help, but who are the best roofers in your area? In Missouri, Diversified Exterior Solutions are the most experienced and reputable roofers who can help you improve your residential home or commercial building with a new roof.
Get a Quote For Your Project
"Excellent group of individuals with whom to work. Were there everyday to make certain the job was going well. Addressed any issues timely. Overall quality of work, as well as people working for them, was excellent. Would recommend them without hesitation."
"Luke came to me highly referred from a friend, he was on time and ended up installing new roof, skylights and gutters on my home. Very pleased with the whole process from estimating to invoicing."