In addition to durable siding and a well-constructed roof, the soffits and fascia are very important to the exterior appearance of your home or business. Often homeowners overlook these architectural details, but they are essential to completing your home's exterior. Soffits and fascia are also vital for the proper function of your roof, to maximize it's longevity, and they must be kept in good repair to perform their job.
Get Professional Soffit and Fascia Installation From Your Local Exterior Construction Experts, Diversified Exterior Solutions

If your soffits or fascia have been damaged by roof leaks or storms, you need the services of your trusted local roofing company. Home Perfect Exteriors is the premier roofer and exterior construction contractors, and we are proud to help homeowners with their siding, soffits, and fascia.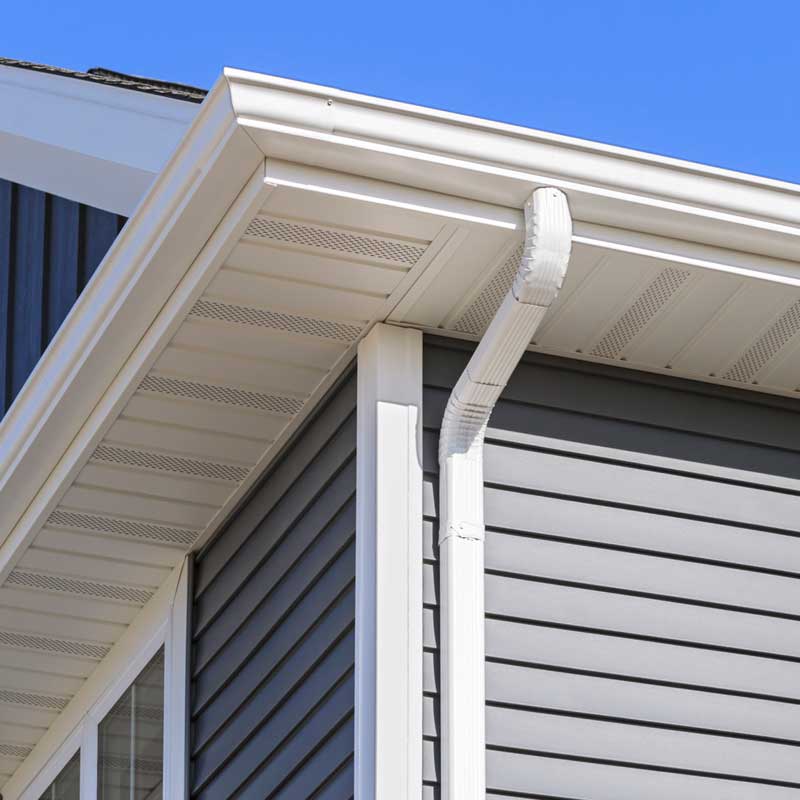 Do your soffits or fascia need to be replaced?
There are many reasons you could need soffit and fascia repair or replacement, including:
Roof or gutter leaks
Water damage on walls
Water or frost in attic
Infestations of animals or insects
Mold and moss
What are soffits?
The soffits are the panels underneath the eaves of a roof which cover the gap between the roof edge and the exterior wall, providing a finished exterior appearance. Vents in the soffits are there to provide airflow under the roof and allow air to flow into the attic through the soffits and escape through the vents in the roof.
Soffit Repairs
Soffits can become damaged over time by rotting or mold, poor roof ventilation, or birds and animals can also cause damage. Our team will shoot straight with you to repair damages and replace what cannot be repaired.
What are fascia?
In short, fascia are the exterior-facing narrow boards just under the line of the roof, which are where gutters are commonly connected to the house. For this purpose, fascia need to be strong and securely installed. While many homeowners choose wood for their fascia, we also offer vinyl, aluminum, or other metal materials.
Fascia Repairs
The experts at Diversified Exterior Solutions can fix many common fascia problems like broken gutters, storm damage, insect damage and can replace rotten, decaying wood.
Diversified Exterior Solutions: Your local soffit and fascia replacement pros!

In St Louis MO, Diversified Exterior Solutions are the experienced contractors who can repair or replace your soffits, fascia and more. As professional roofers licensed and insured in Missouri, we offer full service exterior services you can trust. We've been working on home exteriors and commercial properties, including roof parts like soffits and fascia, for decades, so we can execute almost any construction project.
Contact Diversified Exterior Solutions today to learn about our exceptional exterior services!
Get a Quote For Your Project
"Excellent group of individuals with whom to work. Were there everyday to make certain the job was going well. Addressed any issues timely. Overall quality of work, as well as people working for them, was excellent. Would recommend them without hesitation."
"Luke came to me highly referred from a friend, he was on time and ended up installing new roof, skylights and gutters on my home. Very pleased with the whole process from estimating to invoicing."