If you're looking to completely protect your home, a new roof isn't the only way. Gutters put the finishing touch on your new roof by taking stress off the roofing and directing water away from your house. To get the best gutter installation for your home, you need a roofing company with experience in your local area.
Your St Louis MO Area Gutter Installation Experts
Diversified Exterior Solutions, your trusted local roofers for the St Louis MO area, also install high quality gutters to completely protect your residential home or commercial building. Our local experience means that we understand the area's weather conditions, know all about different gutter designs, can provide an efficient gutter installation experience, and have relationships with reputable siding and gutter suppliers.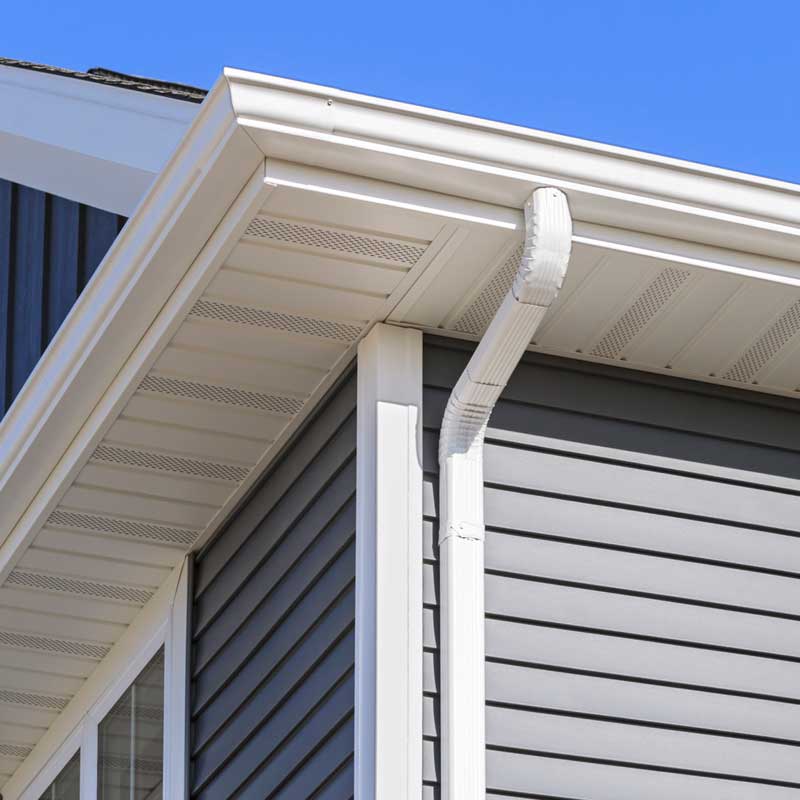 Diversified Exterior Solutions – Best Gutter Installers in Missouri
The best type of gutters for most modern homes are called seamless k-style gutters because they provide the best look and waterproofing.
K-Style gutters
K-style gutters have a flat side like the letter K, and they similar to traditional crown moulding, giving your home a classic look. These traditional gutters are manufactured in pre-measured pieces and they have connections, or seams, that need to be sealed.
Seamless Gutters
Seamless gutters are made in long strips and cut on site for a truly custom gutter system. Most seamless gutters are also coated with an enamel so that water and debris easily slide through them, reducing clogging.
Seamless K-Style Gutters
With seamless k-style gutters you get the ultimate protection for your roof and your home. This style of gutter requires professional gutter installation by experienced installers with the proper equipment.
Trusted Local Gutter Installation Experts: Diversified Exterior Solutions
We're not just the premier roofers in the St Louis Missouri area who can install your new roof, we are also leaders in the gutter installation industry. With gutter installation from Diversified Exterior Solutions, you get the highest quality gutters available, manufactured by the best companies with the strongest warranties in the industry. We'll get your gutters installed quickly and efficiently, and leave your property looking better than when we arrived.
Contact Diversified Exterior Solutions today to learn about our exceptional gutter install services!
Get a Quote For Your Project
"Excellent group of individuals with whom to work. Were there everyday to make certain the job was going well. Addressed any issues timely. Overall quality of work, as well as people working for them, was excellent. Would recommend them without hesitation."
"Luke came to me highly referred from a friend, he was on time and ended up installing new roof, skylights and gutters on my home. Very pleased with the whole process from estimating to invoicing."