When looking to protect and beautify your residential home or commercial property, siding installation is a vital service, but you need to get it from a trusted contractor with experience in your local area. Siding provides superior protection to your structure's exterior with an almost endless variety of finishes and colors to suit your exterior style.
Professional Siding Installation From Your Local Exterior Construction Experts
New siding is a perfect way to finish off residential home construction, but siding installation isn't the only service your local contractor can provide. After a storm, siding repair can also be a good way to restore your home. No matter your situation, you need siding services from your trusted local home exterior construction company to get the best protection.
Diversified Exterior Solutions aren't just leaders in roof installation in the St Louis MO area; we're also experienced with gutters and siding! Because we've been working in the area for so many years, we've developed working relationships with some of the best construction suppliers in Missouri, so we can offer our local clients the absolute best in siding. We can also match any type of siding for seamless looking replacement.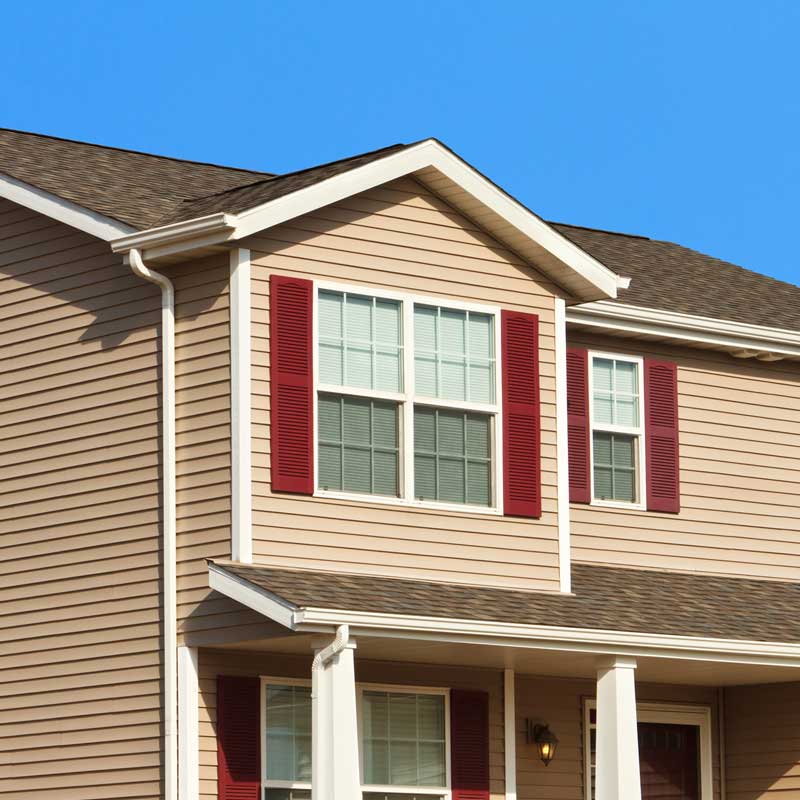 Diversified Exterior Solutions – Best Siding Installers in Missouri
Learn how our experts are superior to other siding installation contractors in both the quality of our work and the value we provide to our Missouri clients.
Siding Installation
Our main goal is to make sure our St Louis are residential property owners get the right siding for their needs and that matches the look they've dreamed of. That's why we work closely with every homeowner to find just the right type and finish of siding for them. Our experienced home exterior construction crew can also properly install many different types of siding systems so that your home has seamless exterior protection against weather for decades.
Siding Repair
Just like the roof on your home, your siding can get damaged by high winds, hail, or flying debris during a major storm, and it needs siding repair just the same. Even durable vinyl siding can crack, leading to leaks, so it needs repair services as well. When your fascia, soffits, or gables are damaged, our experienced crew can help you get your home exterior looking good again as well as protecting your walls and foundations from water damage.
Siding Replacement
When you contract with Diversified Exterior Solutions to get siding replacement, you can rest assured that any cracked or broken siding panels will match your existing siding perfectly, creating a seamless seal around your house that will keep out the elements. Our team's superior siding installation techniques will also ensure that your siding replacements will last for decades, and our warranties guarantee that quality for decades.
Commercial Siding Installation
Commercial properties often have special needs for industrial siding that is even more rigorous and durable than residential products. To reduce maintenance costs and repair costs, pairing the highest quality materials with the highest quality worksmanship is a must. Diversified Exterior Solutions has many years experience providing commercial clients with professional results that matter.
Trusted Local Siding Installation Experts: Diversified Exterior Solutions
We have decades of experience with siding and home exteriors in the greater St Louis MO area, so we can handle any siding design, finish, color, or repair. We're the contractors to call to complete your residential exterior renovation when we install a new roof, gutters, and siding.
Contact Diversified Exterior Solutions today to learn about our exceptional siding services!
Get a Quote For Your Project
"Excellent group of individuals with whom to work. Were there everyday to make certain the job was going well. Addressed any issues timely. Overall quality of work, as well as people working for them, was excellent. Would recommend them without hesitation."
"Luke came to me highly referred from a friend, he was on time and ended up installing new roof, skylights and gutters on my home. Very pleased with the whole process from estimating to invoicing."